REC works 24/7 and 365 days a year to avoid potential power outages and to ensure that members have reliable access to power. On rare occasions, however, power outages can be unpredictable and unavoidable. Backup generators are the first line of defense in keeping your home or business online in the event of a power outage. REC has partnered with Generac to bring its members-owners a variety of generator solutions for any-sized home or business.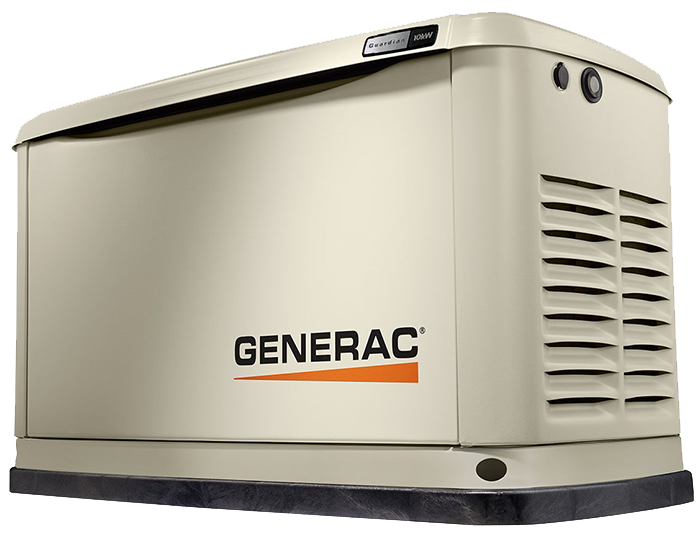 Generators typically incorporate a large up-front cost but can protect your home or business from future uncertainties and setbacks. Loss of refrigeration is not the only danger of power outages. Homes and businesses alike face large financial burdens caused by frozen pipes, mold removal and flooded basements. In the event of a power outage, REC technicians and field crews work quickly to restore power to the members who are affected. Having a permanent and reliable source of backup power offers peace. Generators can also increase the value of your property and can last up to 20 years if properly maintained.
Connect with a Generac team member today for a free quote
GET A FREE QUOTE
Pricing and Finance Options
Generator prices vary based on the size and power rating of the generator, and installation requires additional costs. The Generac website has free a pricing and sizing tool to provide cost estimates for different home or business generator applications. The free quote offered by Generac experts provides several pricing and sizing options to allow you to make an informed choice. 
Generac offers financing options to make generators more accessible to all types of homes and businesses. Members can take advantage of the monthly financing plans offered by Generac to gradually pay off their generator and have reliable access to power any day of the year. In addition, Generac offers a number of convenient promotional offers for those looking for other financing options. 
Installation
Installation of the generator will not be included in the original price of the generator. Certified installers can install a generator in about one day, and the installation process typically follows four steps:
Site Selection: Members will work with installation experts to determine the best site for a generator. The ideal site should be well-drained and should not experience flooding. The generator must also be at least 3 feet from utility meters, air conditioning units, combustibles or anything serviceable. It is important to note that the closer the site is to the electric meter and the natural gas supply line, the less installation will cost.
Generator Installation: The installer will first set a bed of gravel or cement slab that is 18 inches from the house and 60 inches from doors, windows, and fresh air intakes. The generator will be installed on top of the gravel or cement layer. 
Connecting Fuel and Electrical: The installer connects a fuel line from your home's existing natural gas or propane line to the generator. If your home does not have a natural gas or propane source, then it is important to speak with a Generac expert before purchasing a generator. Next to the main breaker box, the transfer switch is installed. The transfer switch is a device that transfers load from one source to another. In the case of a generator, the transfer switch identifies when utility power is unavailable and switches the load to the generator. 
Simulating an Outage: To ensure that your generator and transfer switch are working properly, the installer will simulate a power outage. Fuel is drawn from the fuel line and the generator is turned on to restore power during the outage simulation. Finally, the installer will set up the generator to run weekly tests to ensure that all parts are working properly.
Generac Warranty
Generac offers extended limited warranties on its products. Local, preferred Generac dealers provide service programs to ensure that generators is properly maintained. Service programs include, but are not limited to:
Oil changes.
Oil filter replacement.
Spark plug replacement.
Battery replacement.
Mobile Link dealer monitoring.
Remote Generator Monitoring
Many Generac models offer free access to the wireless monitoring software, Mobile Link™. With Mobile Link, you can monitor the status of their generator at any time and receive immediate notifications when their generator is running, testing or ready for maintenance. The Mobile Link app is available for both Android and IOS and is used by over 200,000 Generac members.
Portable Generators
Home generators are installed to be permanent additions to the home. For members interested in a more portable solution, Generac also offers a variety of portable generator sizes for a variety of applications. 
Before purchasing either a home or portable generator, it is important to be aware of proper generator safety practices. See REC's webpage on generator safety for important safety tips and FAQ's.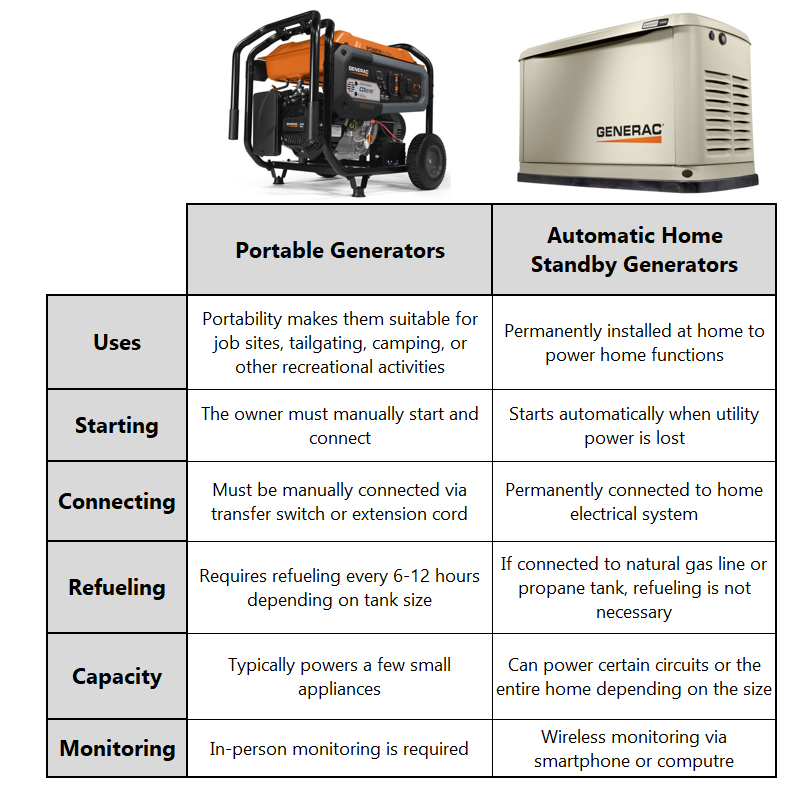 Frequently Asked Questions
Generac generators run using the existing natural gas or liquid propane fuel supply in your home, so manually refilling is not necessary.
The type of generator you buy should depend on when, where and how you would like to use it. See the comparison chart for a brief overview of home and portable generators.
Home generators are safer and cheaper to run because they use natural gas and propane from the home rather than gasoline inputs.
Home generators start automatically within seconds after power is lost, saving time and effort in setting up a portable generator and extension cables. This also means you will not need to be at home in order to turn on or turn off your generator.
The permanent home generators offered by Generac run automatically when a power outage is detected and will continue to operate until power from the utility is restored. Some models can be monitored remotely from a smartphone, computer, or tablet using Mobile Link.
The number of electrical appliances you can power with your generator will be determined by the size of the generator you purchase. For example, a 16kW generator will be able to power more appliances than a 10kW generator.