At REC, we know that managing the cost of your monthly electric bill is important. There are a number of factors that can affect your bill from month to month, such as the weather, your electric use, a faulty appliance or even a gap under a door.
Use the My Usage tool in MyREC SmartHub to learn more about energy consumption in your home.
Among its features:
Compare energy use over time, including the related weather information, so you can make adjustments as needed.
Identify usage trends.
Build a monthly budget to eliminate high bill surprises.
Compare bills to determine differences between the same month a year apart.
Examine your average energy usage for selected time frames, including days of the week.
How to get started:
First you will need your new account number, which can be found on your bill.
Log in to your MyREC SmartHub account and click the My Usage tab in the blue bar at the top of the page. Learn more about your energy usage and start building your savings plan today!
How Usage Explorer works 

You will see a graph with green bars representing months over the last year The black bar shows the average temperature. You also can add the high temperature and the low temperature.

To view the use for a specific day, simply click on the bar for that day, and you will see the hour energy use for that full day. To return to the previous screen, click on the orange Daily Usage button You also can download this data to your own computer by clicking the green button below the chart.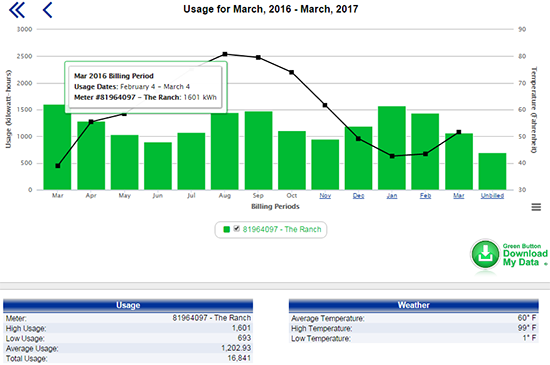 How Usage Comparison works
This tool allows you to compare months of energy use side by side. You can go back and compare any month you would like to another.

How Average Use works
With the Average Usage tool, you can generate reports showing the time of day, day of the week or monthly for a specific date range.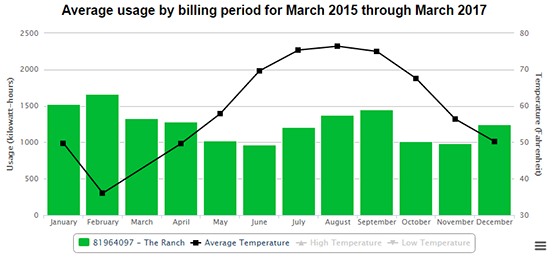 Heating and cooling contribute the most to your electric bill. In extreme cold, heating systems work longer and harder, and often have to use back-up heat after temperatures drop below a certain point. This increases the largest contributor of your electric bill, resulting in a higher-than-normal electric bill. During extreme cold temperatures, sometimes people will use a stand-alone space heater. Space heaters use approximately 1,500 watts or 1.5 kilowatts. If that space heater runs consistently for 12 hours daily it adds roughly $2.25 per day or about $67.50 or more for the month.
GENERAL GUIDANCE
Adjust the thermostat setting while you are asleep or away. Using a programmable thermostat allows flexibility and adds convenience, as temperatures will automatically return to normal before you wake or return home.
Up to 25 percent of air is lost through small cracks and holes. Seal air leaks in ducts, walls, windows and doors, and close fireplace dampers when not in use.
Check heating and cooling system air filters monthly to ensure the system is operating most efficiently and change them two to three times annually.
IN THE WINTER
During the winter, set the thermostat to the lowest comfortable temperature (recommended 68 degrees).
Every degree you raise your thermostat in the winter above the recommended settings can add three to five percent to heating costs.
During heating season, remember to adjust in increments of 2 degrees when your awake or come home to avoid causing the back up heat to come on.
Refrain from using space heaters as a supplemental heating source, as they can significantly increase your electric bill.
IN THE SUMMER
During the summer set the thermostat to the highest comfortable temperature (recommended 78 degrees).
In the summer, every degree you lower your thermostat below the recommended settings can add three to five percent to cooling costs.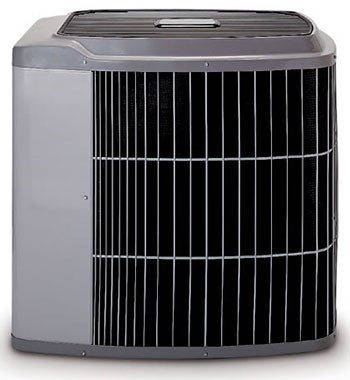 REC and our professional energy experts offer the following services to members of the Cooperative:
Phone Consultations: Ask our energy advisers questions directly and work to resolve the issue by phone
Energy Audit: REC's professional energy advisers visually inspect the home and offer retrofit recommendations for a fee.
My Usage in MyREC SmartHub: Use this valuable tool to learn more about energy consumption in your home. Create your account and check it out here.
Your electric bill reflects the amount of electricity you use and represents the unique needs of your family. Houses vary in terms of:
Size of home
Structure of home
Number of individuals living in the home
Types of heating systems and water heaters
Temperature settings
Insulation levels
Personal comfort levels
Condition of the home and appliances
Laundry, cooking and cleaning habits
Hot tubs, swimming pools and water features