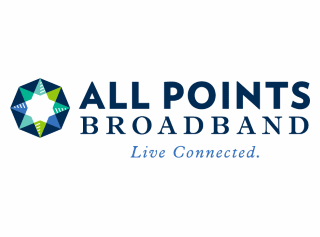 All Points Broadband operates Virginia's premier fixed wireless Internet service provider and is making substantial investments to upgrade and expand this network and expand into new regions.  We are partnering with counties to design and build broadband networks in their jurisdictions.
Our hybrid-fiber-wireless network will be the optimal solution to provide content-neutral broadband to underserved regions without ongoing subsidies. Resource-constrained local governments can reduce costs by consolidating their telecommunications budgets and leveraging their underused vertical assets. Learn more at allpointsbroadband.com
Hanover County Partnership
Hanover County Announces "Connect Hanover" Partnership With All Points Broadband, Dominion Energy Virginia and REC
July 28, 2021:
All Points Broadband is partnering with Dominion Energy Virginia and Rappahannock Electric Cooperative (REC), who will lease "middle-mile" fiber capacity to All Points and leverage the initiative to improve the operation and efficiency of their electric grids. As it moves forward with efforts to modernize Virginia's energy grid, Dominion Energy is working to provide "middle-mile" fiber optic cable infrastructure that can also be used to bridge the digital gap and reduce broadband deployment costs in Hanover County and other areas of the Commonwealth. All Points will serve as the partnership's last-mile internet service provider and be responsible for providing service to end users in Hanover County. 
Hanover and its partners will focus on areas that are currently unserved, such as those where residents must use satellite, DSL, cell phones or mobile "hot spots," which do not provide adequate speed and data for today's applications. Ensuring broadband availability for all of Hanover County will require a combination of state and federal financial support and a multi-year construction timeframe.
"Broadband access is more important than ever, and we're proud to work with our partners in Hanover County to be part of the solution and help bring this critical resource to the communities we serve," said Charlene Whitfield, Senior Vice President of Power Delivery, Dominion Energy. Added John Hewa, President and CEO of REC: "We are proud to partner with Hanover and All Points Broadband to help bridge the rural digital divide. REC is committed to improving the lives of the residents and businesses that we serve and improving broadband access certainly achieves that mission."
By the end of August, All Points Broadband will develop a network design for presentation to the Board of Supervisors and approval in September. The County will apply for grants through the Virginia Telecommunications Initiative (VATI) in September. Grant announcements will be made by late 2021 or early 2022, and funding would be made available by July 2022. The utility partners anticipate construction could begin as early as fall of 2022. 
Yes, the goal is to ensure that unserved residents have access to broadband speeds via a fiber internet connection that will be deployed on a countywide basis. 
August 2021 – All Points Broadband develops a network design for presentation to the Board of Supervisors. Citizens are asked to provide feedback on current service levels
September 2021 – Presentation and approval from Hanover County Board of Supervisors
September 2021 - Hanover County applies for funding through the Virginia Telecommunications Initiative (VATI)
December 2021/January 2022 – Notifications of Virginia Telecommunications (VATI) grant awards received
Early 2022 – Dominion Energy application to SCC  for middle-mile work
Fall 2022 – Pending grant funding awards and regulatory approval, utility partners and county anticipate construction to begin.
Electric utilities can help by utilizing fiber capacity for both their operational needs and for broadband access, reducing broadband deployment costs for ISPs to reach unserved homes and businesses.
All Points Broadband is the service provider for residents and will bill for service. In addition, Lumen, Comcast or other providers may also deliver service as part of the Connect Hanover initiative.
These details are still being discussed and additional details will be provided once they are finalized. However, deployment will branch outward from existing fiber connections and will be organized to maximize the efficiency of the total buildout.
 
Deployment plans will be shared at the Sept. 8 Board of Supervisors meeting. Ultimately the build out will be based on available funding and designated areas of electrical infrastructure and customer demand.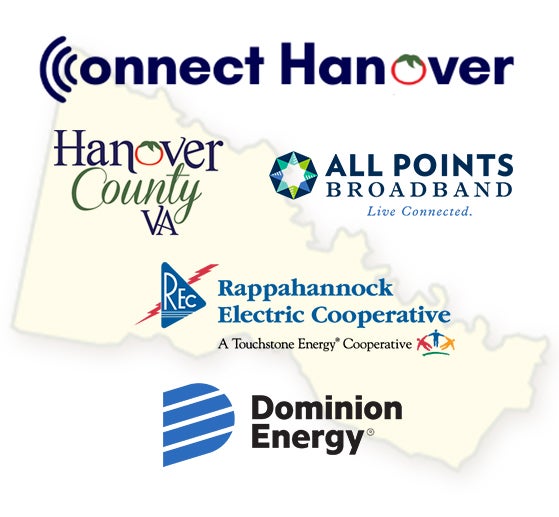 Goochland County yesterday announced progress toward extending broadband coverage to all of its residents and businesses. 
REC joins Dominion Energy and Firefly Broadband to provide a broadband progress update and answer business-related questions.
REC announces its partnership in the "Connect Hannover" initiative with Hanover County, All Points Broadband and Dominion Energy to make broadband ser...